Sticky Brioche Pudding with Tamari Caramel
---
If you asked me what my ultimate comfort dessert is, I'd say that hopefully, it would incorporate both custards and bread, which can mean only one thing: welcome to the world of bread pudding. I love this dessert because it uses old, stale bread, like hamburger buns or leftover challah, which are sliced into thin slivers, then toasted in the oven until crisp, and then rehydrated with a rich, creamy custard sauce. Here, we're building flavor by adding caramel in two ways: by burning the sugar in the custard sauce that we'll soak the bread in, and in a rich, toffee-esque caramel glaze that gets brushed on at the end. It's a rich, fancy-seeming dessert, but humble too, and you probably have all the ingredients sitting around already. I add savory notes with a big glug of tamari, or Japanese soy sauce, which helps balance all the buttery, sweet notes at play.
| | |
| --- | --- |
| TYPE | DESSERT |
| SERVES | 6 |
| DIFFICULTY | EASY |
| PREP TIME | 45 MIN |
| COOK TIME | 45 MIN |
Ingredients
For the caramel custard:
5 large eggs
½ cup white sugar
2 cups whole milk
1 teaspoon vanilla extract
½ teaspoon kosher salt
1 tablespoon tamari (or any soy sauce)
3 tablespoons unsalted butter
For the brioche pudding:
4 large brioche buns
3 cups caramel custard
1 tablespoon white sugar
For the tamari caramel sauce:
2 tablespoon unsalted butter
⅛ cup dark brown sugar
½ cup heavy cream
1 ½ tablespoon honey
1 ½ teaspoons tamari
1 teaspoon vanilla extract
flakey sea salt, optional
Directions
In an All-Clad 2 Quart Saucepan, combine the 3 tablespoons of butter and white sugar. Cook over medium-high heat until the butter has melted and the mixture has turned into a boiling slurry.
Using an All-Clad Stainless Steel Whisk and whisk the mixture well and continue to let boil until it is emulsified and beginning to caramelize. Continue to cook, a few minutes longer, until the mixture is deep, golden brown.
Remove from the heat and stream in the milk, vanilla extract, tamari, and kosher salt. Whisk well until the mixture is smooth. Set aside to cool.
Crack the eggs into the medium-sized All-Clad mixing bowl and whisk well.
Once the caramel milk mixture is only slightly warm, to the point where the raw eggs will not cook in the mixture, stream into the mixing bowl with the eggs and whisk well to combine.
Strain through a sieve or sifter in another bowl and set aside.
Preheat the oven to 300°F. Slice the brioche buns in half crosswise. Then slice each half into 1cm-thick slivers.
Transfer the pieces onto an All-Clad Pro-Release Nonstick Baking Sheet and toast until lightly golden and completely dried out. Stir the bread occasionally, so it toasts evenly, about 15 minutes.
Arrange the brioche slivers in an All-Clad Pro-Release Nonstick Loaf Pan, tucking them closely together. Set aside the extra pieces that don not fit into the dish; once the custard is added, the pieces will shrink to fit and you can add in the rest of the toast pieces.
Pour over 2 cups of the cooled caramel custard and let sit for 2 minutes.
Use your fingertips to gently nudge and press them together, which will reveal extra space for you to add the remaining toast pieces. Shingle those in as well and add the final cup of custard.
Press down lightly with your fingertips to fully submerge the bread, but do not squish or tear it. Let rest for at least 1 hour or up to overnight before baking. The longer the pudding can sit before baking, the more evenly the bread will hydrate in the custard.
When ready to bake, preheat oven to 325°F.
Sprinkle one tablespoon of granulated sugar over the surface and bake until the pudding is beginning to pull away from the sides of a pan and a cake tester pulls cleanly from the center, about 40 to 45 minutes.
Let cool slightly while you prepare the sticky tamari topping.
In a 2 quart saucepan, combine the dark brown sugar and butter over medium-high heat. Let bubble and boil, whisking throughout, until a smooth paste has formed and it is beginning to deepen in color, about 4 minutes.
Slowly stream in the heavy cream, honey, vanilla extract, and tamari and whisk well to combine. Bring back to a simmer and let cook for an additional 2 minutes.
Remove from the heat and taste; add a pinch of flaky sea salt if needed. The caramel should have a distinct sweet and savory taste.
Use an All-Clad Pastry Brush or Cook & Serve Spoon to drizzle the tamari caramel sauce on top, letting it seep into the golden crust. You may have about 1/4 cup of caramel sauce leftover, which is delicious on top of ice cream, peanut butter toast, or roasted fruit.
Let cool slightly and then scoop portions of the sticky brioche pudding into bowls. Serve with a dollop of yogurt or creme fraiche, if desired. Store leftovers in an airtight container in the refrigerator for up to 3 days.
Pro Tips:
Play around with your leftover breads; I happen to think that day-old croissants make the best bread pudding, but croissants rarely last longer than an hour in my home. Any kind of enriched bread will have enough body and character to work here, including brioche buns, babka ends, or challah slices.
Other soy-based substitutes can be used in the caramel bases as well, like shoyu, ponzu, and even miso paste.
For individual brioche puddings (and a much faster baking time), shingle the brioche crisps into a muffin tin and bake for 25 minutes.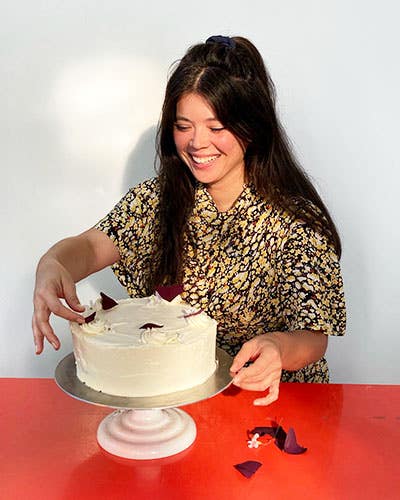 RECIPE BY
Natasha Pickowicz
---
Natasha Pickowicz is an NYC-based pastry chef and writer. She is a three-time James Beard Foundation Award finalist, recognition from her time spent running the pastry programs at the award-winning restaurants Altro Paradiso, Flora Bar, and Flora Coffee from their opening in 2016 until March of 2020. Currently, Natasha runs the acclaimed pastry pop-up called Never Ending Taste, which celebrates the relationship between local farming, social justice, and community bake sales. It has been held at NYC's Superiority Burger, Brooklyn's The Four Horsemen, the American-Vietnamese bakery Bạn Bè, the Taiwanese tea room Té Company, LA's Kismet, and San Diego's Chino Farms. She is now working on her debut cookbook.