Natasha Pickowicz's Buttermilk Biscuit and Greens Tart
Somewhere between a tart and a cobbler is this easy biscuit pie, inspired by James Beard's iconic tomato pie, which piles on fresh tomato slices slathered in mayonnaise into a biscuit-lined pie tin. Here, a tender, hand-mixed buttermilk biscuit dough is pressed into an All-Clad non-stick baking pan and topped with a super flavorful filling packed with dark greens, grated mozzarella, and some tangy feta sprinkled in. This sturdy tart travels well and is delicious at room temperature.
| | |
| --- | --- |
| TYPE | BREAKFAST & BRUNCH |
| SERVES | 8 |
| DIFFICULTY | EASY |
| PREP TIME | 40 MIN |
| COOK TIME | 40 MIN |
Ingredients
For the biscuit crust and toppings:
3¾ cups (450g) all-purpose flour
1 tablespoon plus 2 teaspoons (20g) baking powder
3 tablespoons (38g) white sugar
1½ cups (about 360g) buttermilk, cold
1½ sticks (160g) unsalted butter, cubed and cold
1 teaspoon kosher salt
For the greens filling:
8 cups packed dark greens of choice, swiss chard, kale, collard greens, or stinging nettles
3 ounces feta, crumbled
1½ cups (6 ounces) grated mozzarella
½ teaspoon kosher salt, to taste
Freshly cracked black pepper
2 whole eggs
2 tablespoons olive oil
2 teaspoon red wine vinegar or similar
Directions
For the biscuit crust:
Combine the all-purpose flour, baking powder, white sugar, and kosher salt in a medium bowl and whisk with a fork to combine.
Add the cold, cubed butter all at once and pinch in the pieces with your fingertips to shingle the butter in. The butter should mostly be disappeared into the biscuit dough with some larger cornflake-sized pieces remaining.
Drizzle in a quarter of the buttermilk into the butter and flour mixture. Fluff it up lightly with your hands to combine.
Keep drizzling in more buttermilk until the mixture is just about coming together; you may not need all the buttermilk. Work with a light touch - overmixing the dough will make the crust leaden and tough. Similarly, adding too much buttermilk will make the biscuits dense and unappetizing. The dough should look like barely sticky curds with some lighter, crumbly-looking patches.
Transfer ¾ of this mixture to an All-Clad Pro-Release Nonstick 9 inch Round Cake Pan and press it in lightly with your fingertips so it is even across the bottom and coming up the sides. Again, try not to overwork the biscuit too much so the crust stays tender.
Place the cake pan into the refrigerator while you prepare the filling.
Reserve the remaining biscuit dough for the decorative topping.
For the greens filling:
Bring an All-Clad D3 Stainless 2 Quart Sauce pan filled with water to a rolling boil.
Add the greens in all at once and blanch until just tender. Depending on what greens you use, this could take 30 seconds (spinach, arugula, radish, or beet tops) to 1 minute (Lacinato kale, swiss chard, or stinging nettles) to 2 minutes (collard greens).
Pour the greens into a colander and rinse with cold water to cool.
Squeeze out as much of the water with your fists as you can; really try to wring out all the water as this will make your tart filling more intense and delicious.
Transfer the dried out, cooked greens to a cutting board and roughly chop.
Transfer to a new medium mixing bowl and add the grated mozzarella, crumbled feta, olive oil, salt, and pepper.
Separate one egg. Reserve the egg white for the biscuit crust wash, and add the yolk and one other whole egg to the mixture. Combine with a spoon until evenly mixed.
Add the vinegar, stir, and taste. The mixture should be savory and balanced, but not too salty.
To shape the tart:
Preheat the oven to 375°F.
Remove the tart crust from the refrigerator and add the greens filling, which should come up to the top of the pan.
Smooth the surface with the back of a spoon.
Shape the remaining biscuit dough into 4 small individual biscuits and place on top.
Brush the biscuit topping and crust edges with the reserved egg white.
Transfer to the oven and bake until the crust edges and biscuit topping is golden and the filling looks set. Remove from the oven and let cool for 15 minutes for slicing into 8 wedges. Eat immediately.
Pro Tip:
This tart is delicious with a mixture of greens and is a great way to use up some limp odds and ends that you may have languishing in your refrigerator. You can also play around with the biscuit crust, substituting 25% of the all-purpose flour with a whole grain flour like rye, or adding ½ teaspoon of ground black pepper and 3 tablespoons of finely chopped fresh parsley to the biscuit dough.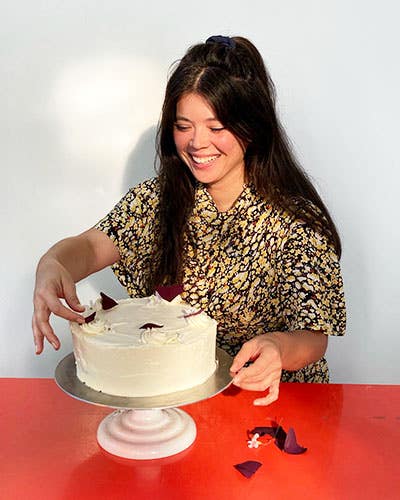 RECIPE BY
Natasha Pickowicz
---
Natasha Pickowicz is an NYC-based pastry chef and writer. She is a three-time James Beard Foundation Award finalist, recognition from her time spent running the pastry programs at the award-winning restaurants Altro Paradiso, Flora Bar, and Flora Coffee from their opening in 2016 until March of 2020. Currently, Natasha runs the acclaimed pastry pop-up called Never Ending Taste, which celebrates the relationship between local farming, social justice, and community bake sales. It has been held at NYC's Superiority Burger, Brooklyn's The Four Horsemen, the American-Vietnamese bakery Bạn Bè, the Taiwanese tea room Té Company, LA's Kismet, and San Diego's Chino Farms. She is now working on her debut cookbook.
Connect with Natasha on social @natashapickowicz