Natasha Pickowicz's Rhubarb and Corn Cobbler
Cobblers are a great way to put the spotlight on fresh, bright springtime fillings - like the tart and bracing rhubarb. The cobbler topping is really just a buttery pound cake, spread thinly on top of the macerating rhubarb and baked into a shiny, tender crust. Let the cobbler rest for 30 minutes before eating, if you can stand to wait that long - the fruit will firm up and be easy to scoop. A giant dollop of whipped cream is a great idea, too.
| | |
| --- | --- |
| TYPE | DESSERT |
| SERVES | 8 |
| DIFFICULTY | EASY |
| PREP TIME | 30 MIN |
| COOK TIME | 35 MIN |
Ingredients
For the rhubarb filling:
5 cups (about 700g) rhubarb, sliced into 1-cm wide pieces
1½ cups (300g) white sugar
½ teaspoon kosher salt
1 tablespoon plus 2 teaspoons (12g) cornstarch
The zest and juice of ½ a lemon
1 tablespoon unsalted butter
For the corn cake topping:
1 stick (110g) unsalted butter, cubed and room temperature
½ cup (100g) granulated white sugar, plus 1 tablespoon for sprinkling on top
½ vanilla bean
1 large egg, room temperature
¾ cup (100g) all-purpose flour
¼ cup (20g) cornflour or fine cornmeal
½ teaspoon kosher salt
¼ teaspoon baking soda
⅓ cup (80g) room temperature buttermilk
2 cups whipped cream, to garnish
Directions
For the rhubarb filling:
Lightly butter an All-Clad HA1 Hard Anodized 10 Inch Fry Pan with 1 tablespoon of softened butter.
In a medium bowl combine the cubed rhubarb, white sugar, cornstarch, kosher salt, lemon zest, and lemon juice.
Work this mixture with your fingers until it feels soupy and smells fragrant. Add the mixture to your buttered pan and set aside to macerate while you prepare the cobbler topping.
For the cobbler topping:
Preheat the oven to 375°F.
In a mixing bowl combine all-purpose flour, cornflour or fine cornmeal, kosher salt, and baking soda, and set aside.
In a stand mixer fitted with a paddle attachment, combine the room temperature butter and granulated sugar and beat until fluffy and creamy, about 4 to 5 minutes. Scrape well with a spatula between each new addition.
Scrape the caviar from the inside of a split vanilla bean using the back of a small knife and add this to the butter and sugar mixture and paddle to combine, another minute.
Add the whole egg and paddle until combined and smooth, another minute.
Add half the dry mixture, and then combine with a spatula.
Add half of the buttermilk, and fold with a spatula by hand. Then repeat with the remaining dry mixture and buttermilk until smooth.
Dollop on top of the rhubarb in the pan and smooth out with an offset spatula to the edges of the cake pan.
Sprinkle with a tablespoon of white sugar and put it into the oven.
Bake until the rhubarb filling is bubbling and the cake is baked all the way through, about 45 minutes. To test for doneness, try sliding a knife sideways, at an angle, to test the crumb of the cake. It should pull cleanly with a crumb or two attached.
Let cool for 15 minutes before scooping portions into a bowl. Serve with a dollop of unsweetened whipped cream.
Pro Tip:
You can play around with the proportions of flour if you like. The sweet nuttiness of the cornflour is delicious but a hearty, whole grain flour, like rye or spelt, would be great too, as would buckwheat. You can also experiment with the fruit filling as well - try swapping out a cup of rhubarb for strawberries (classic) or last winter's marmalade (more bitter and grown-up).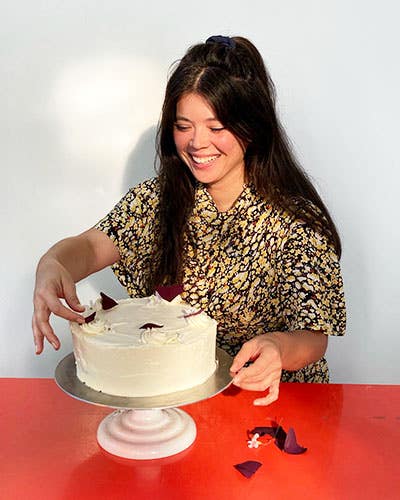 RECIPE BY
Chef Name
---
Natasha Pickowicz
Natasha Pickowicz is an NYC-based pastry chef and writer. She is a three-time James Beard Foundation Award finalist, recognition from her time spent running the pastry programs at the award-winning restaurants Altro Paradiso, Flora Bar, and Flora Coffee from their opening in 2016 until March of 2020. Currently, Natasha runs the acclaimed pastry pop-up called Never Ending Taste, which celebrates the relationship between local farming, social justice, and community bake sales. It has been held at NYC's Superiority Burger, Brooklyn's The Four Horsemen, the American-Vietnamese bakery Bạn Bè, the Taiwanese tea room Té Company, LA's Kismet, and San Diego's Chino Farms. She is now working on her debut cookbook.
Connect with Natasha on social @natashapickowicz