Puffed amaranth has a fine, lighter-than-air texture, perfect for stirring into easy no-bake snacks, like this chewy bar loaded with maple syrup, miso paste, and peanut butter. Instead of stirring the dried fruits and nuts into the bar base, I like to imagine that the plain bar is my canvas, free for me to decorate as I wish. I go crazy for this chewy-crunchy texture of these (vegan and gluten-free, to boot!) treats, which pack perfectly in my bag for long walks, library visits, or car trips.
| | |
| --- | --- |
| TYPE | BREAKFAST & BRUNCH |
| SERVES | 8 |
| DIFFICULTY | EASY |
| PREP TIME | 20 MIN |
| COOK TIME | 10 MIN |
Ingredients
2 cups puffed amaranth
½ cup maple syrup
½ cup smooth peanut butter
1 tablespoon white miso paste
1 teaspoon vanilla extract
1½ cups dried fruits and nuts
Directions
In an All-Clad D3 Stainless 1.5 Quart Sauce Pan over low heat, gently melt the peanut butter and maple syrup together until warm and smooth.
Remove from the heat and stir in the miso paste and vanilla extract.
Add two cups of puffed amaranth and fold with a spatula until evenly combined.
Cut a circle of parchment paper to fit in the bottom of an All-Clad Pro-Release Nonstick 9 Inch Cake Pan.
Transfer the amaranth mixture to the lined cake pan and smooth it with a spatula.
While the puffed amaranth base is still warm, press in the dried fruits and nuts, in any pattern you like. Really pack them in there!
Refrigerate for 30 minutes or until set. Slice into wedges or bars. Eat immediately, or store in an airtight container in the refrigerator for up to 1 week.
Pro Tip:
These bars are vegan and no-bake but there is so much opportunity to play around with substitutions. To keep this peanut-free, swap in your favorite nut butter, like almond or pistachio. Rice syrup or honey can also be subsituted for the maple syrup. Look for roasted, unsalted nuts to keep this treat balanced — I used a mix of pistachios, almonds, and apricot kernels, as well as big yellow raisins, white mulberries, and figs.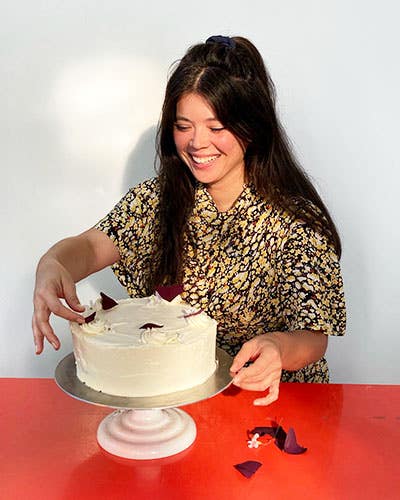 ---
Natasha Pickowicz is an NYC-based pastry chef and writer. She is a three-time James Beard Foundation Award finalist, recognition from her time spent running the pastry programs at the award-winning restaurants Altro Paradiso, Flora Bar, and Flora Coffee from their opening in 2016 until March of 2020. Currently, Natasha runs the acclaimed pastry pop-up called Never Ending Taste, which celebrates the relationship between local farming, social justice, and community bake sales. It has been held at NYC's Superiority Burger, Brooklyn's The Four Horsemen, the American-Vietnamese bakery Bạn Bè, the Taiwanese tea room Té Company, LA's Kismet, and San Diego's Chino Farms. She is now working on her debut cookbook.
Connect with Natasha on social @natashapickowicz